About Us
We are passionate about multiplying possibilities for our employees and partners. It's why people love working for and with us.
Welcome to Roskam Foods
After a century of building careers and brands under the radar, we're no longer the industry's best-kept secret. Founded in 1923 and headquartered in Grand Rapids, Michigan, we are a leading contract manufacturer that partners with world-renowned food brands, retailers, and food service providers to produce a myriad of frozen, refrigerated and shelf-stable products. We're a scaled, diversified operation with over 2 million square feet of manufacturing and 50 production lines across 8 facilities in the U.S. and Canada. Inherently agile and rapidly growing, we welcome the next great partnership.
A History 100 Years in the Making
In 1923, Roskam Foods began as a family business baking fresh pies. When the Depression hit, the company reinvented itself as a bread and bakery operation. Over the years, we branched out into a variety of food categories, becoming one of the largest, most diversified co-manufacturers in the industry. Owned by Entrepreneurial Equity Partners (e2p) since July 2022, the tenacity, integrity and entrepreneurial spirit of the Roskam family lives on in our business as we continue to evolve and grow.
Continuing Our Legacy of Growth
In 2022, we welcomed Organic Milling into the Roskam Foods portfolio. Based in San Dimas, California, Organic Milling is a leading contract manufacturer of better-for-you cereal and granola products for top-tier brands and private labels. Organic Milling offers a broad range of processing and packaging capabilities with a focus on custom organic, non-GMO, and gluten-free formulations. Primary product offerings include traditional and grain-free granolas and extruded crisps, flakes, and coated puffs.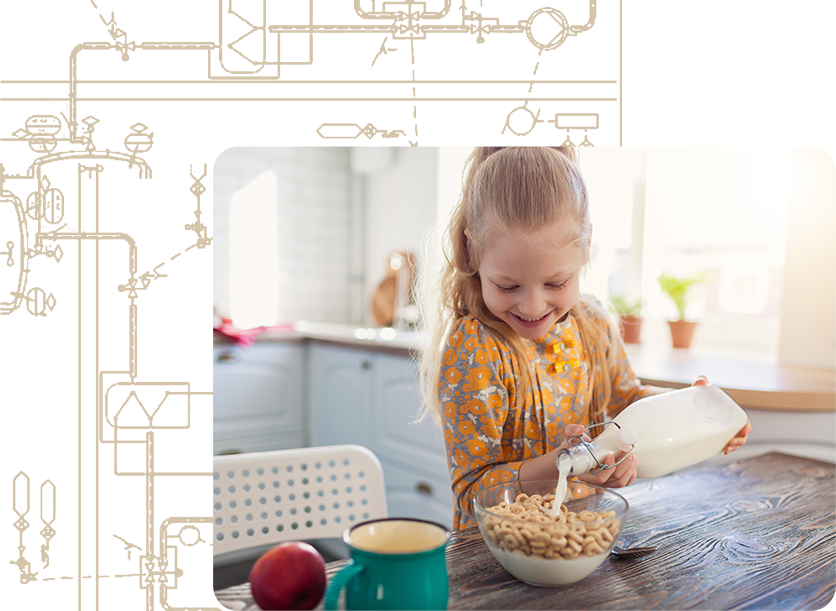 Meet the Latest Addition
to Our Family
With the acquisition of Marsan Foods in March 2023, Roskam Foods has now expanded into frozen meals. Like Roskam, Marsan Foods began as a family business in 1970 with the idea of making gourmet, globally-inspired meals accessible for families. Today, Marsan Foods operates two world-class facilities in Toronto, Ontario where we combine culinary expertise with the latest manufacturing technology to produce a wide range of innovative frozen meals for top-tier retailers, restaurants, and food service providers.
Our Purpose — Multiplying Possibilities
We have a clear purpose at Roskam Foods and it's all about multiplying possibilities for our employees and customers. When we optimize the potential of our people and the brands we serve, we generate value for each of our stakeholders. We call this "exponential potential."
Multiplying Possibilities
For Our People
We create meaningful opportunities that allow employees to apply their unique talents, expand their skillset, and build successful careers in a welcoming and inclusive workplace.
For Our Customers
We are committed to being the best possible partner to safeguard and fuel the growth and profitability of their brands.
For Our Community
We do our part to support those in need, conserve natural resources, and foster a more sustainable planet for future generations.
For Our Shareholders
We deliver sustainable, top-tier results in pursuit of our mission and purpose.